Things They Should Teach You in Dental School
There is a lot you will learn in dental school, such as excellent clinical instruction, practical skills, and safe dental practices, just to name a few. However, there are other types of knowledge that you might NOT get at dental school.
What are the types of things that dental school cannot prepare you for?
In this blog post, we are going to focus on some topics that will help you in your day-to-day dealings in the dental industry. Compass Network Group provides more than just great dental IT support. We provide useful knowledge for our clients, which they can implement right now to improve their business.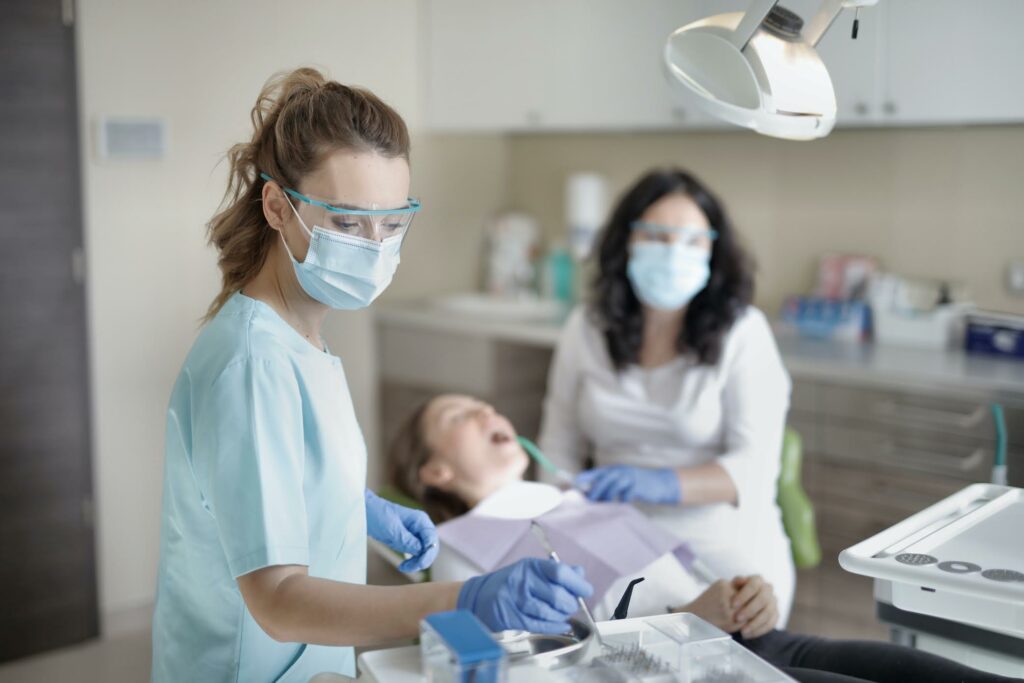 STAY CURRENT WITH NEW TRENDS
Staying current with new trends in dentistry, new practices, and new equipment may be more important than you think. Ignoring this can have an impact on both your patients AND your staff. The dental industry changes constantly and new technology seems to be around every corner. Patients want the latest and most convenient treatments and making sure that you can offer things that patients will want gives you a leg up on the competition. Keeping up with innovation in the dentistry field will also bring good people to your team. Dental students coming out of dental school are going to be eager to start practicing and may be attracted to your office more than your competitors if you are able to provide them with the opportunity to use the latest equipment and utilize their skills with the knowledge they have gained.
Embracing innovation, technology, and new ideas will pay off for everyone at your practice.
UNDERSTAND THE DIFFERENT SIDES OF YOUR BUSINESS
You may be a great dentist and can provide your patients with the best possible care, but providing great dental care to patients is just one aspect of a successful dental office. Many dentists start a practice and get some initial help with setting up things on the business side of things, only to let that take a back seat to the work they do with their patients. It's safe to say, you should have a basic understanding of all aspects of your business. Everything from answering calls to invoicing patients and billing cycles should be somewhere in your repertoire. Learning some basic accounting will help you know exactly what is happening with the services you are providing your patients and how it affects your bottom line. Keep up with these things and do not let them become "someone else's job" if it comes at the cost of losing touch with how your business is run. This may come back to haunt you in the future.
MANAGING THINGS THAT ARE OUTSIDE OF YOUR CONTROL
In addition to knowing the ins and outs of your business, comes how other businesses can impact yours. COVID-19 has changed the world over the last year and has influenced nearly every industry in one way or another. The dental industry had been hit especially hard by the pandemic and now many dentists have to re-examine how they practice dentistry.
Perhaps the biggest change to dentistry in the midst of COVID-19 is the changes to personal protective equipment. In the early days of the pandemic, PPE was scarce, to say the least. The supply of things like masks, gloves, shields, and visors was quickly depleted and many dental offices did not have PPE readily available to them at all times. While things have improved on this front, there are still issues that have lingered. Changing the way you order PPE is a necessity moving forward. Making sure that inventory in your office is accounted for and on hand when you need it is vital to maintaining a smooth operation.
Assess things with your team and assign inventory management to someone who will be able to take on this important responsibility. In the past, it may have been ok to order things a day or two before your supply would run out. Because of shortages and backorders, this may not satisfactory anymore. Having extra inventory at your office may be a saving grace if a distributor has delays in getting your supplies. It would also be wise to get to know your distributor a bit better than you might now. They may have things like loyalty programs, spending promotions and rebate offers that would benefit you in ways you didn't know existed.
APPRECIATE YOUR TALENTED TEAM
The last thing we want to touch on partially circles back to a point we made earlier. Having new technologies and keeping up with changes in the dental industry may attract talented people to your team, but you need to also make sure that you have what it takes to keep them there. Treat your team with dignity, respect, and empathy and they will give you their best every day. Empathize with them and show understanding when they are going through a hardship. Empower them to be leaders and give them the ability to make decisions and good choices. Reward them when they have shown you that they are willing to go the extra mile. Develop and nurture their talents and abilities to become the best version of themselves. None of this is easy and requires a delicate balance. No one is perfect and every day is not going to be sunshine and rainbows, but if you can do these things most of the time, your investment of time and energy will have great returns.
Compass Network Group is so much more than just excellent dental practice IT and computer support. We are a team that is dedicated to helping you build your successful business. When you succeed, we succeed.
We offer a range of managed services that might be able to help you in ways you have not thought of.
Schedule a discovery session with us to see how we may be able to help you today!