A Happy Team is a Successful Team
Dental practices, just like many other workplaces, can be impacted by employee turnover and absenteeism. They can also be impacted when employees feel stressed, fatigued, a lack of enthusiasm and commitment and other emotional and psychological factors.
While technical skills, knowledge, and the ability to manage a dental practice will determine its success, what ultimately determines professional fulfillment and accomplishment is largely the emotional wellbeing of the workplace.
To develop, manage, and maintain a successful dental practice, it's important to have a healthy environment for employees, owners, and patients.
There isn't a single strategy to develop a healthy and happy dental practice, since every workplace is different. Still, it can be said with certainty that healthy workplaces are those that have employees who feel invested in the success of the practice – because they see the practice has invested in their success.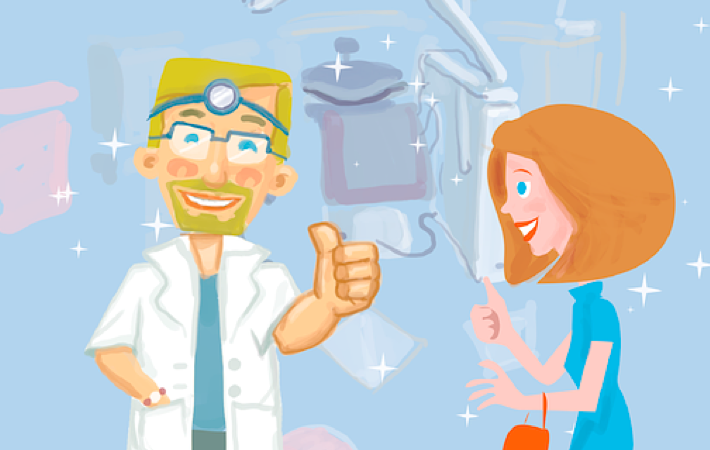 Happy employees are more fulfilled, engaged, and productive, and hopefully, stay at their job longer.
But, how do you keep your team happy?
Here are some fundamental ways to create a positive work environment and keep your employees satisfied:
1. Listen
Listen to the needs and concerns of your team to show them you care because caring is a powerful ingredient needed for the wellbeing and happiness of a workplace. It also demonstrates you respect your employees.
Listening to and being open to your staff's ideas and insight to change or improve something work-related will help them feel involved and valuable and encourage creative thinking.
2. Appreciate
Create a positive work environment where your staff feels appreciated to increase their motivation and performance.
A study by Glassdoor revealed that over 80 percent of employees feel they're motivated to work harder when their supervisor expresses appreciation for their work.
So, keep recognizing your employees' contributions and give detailed praise when appropriate to show them they are appreciated and an important part of your practice. When your team feels like they're doing good work, they will continuously strive to rise to the occasion.
3. Communicate
Clear and honest communication is one of the major building blocks in creating a healthy work environment.
Always strive to be transparent about the goals, expectations, progress and feedback and provide clear directions, so you and your team are on the same page.
Maintain an open line of communication to strengthen connections with your team and allow for effective relationships in your practice. If, for instance, there's an issue with a co-worker, bring it up with that individual in person, so it can be dealt with directly and resolved. It is not fun or productive working in a place where there is tension between co-workers.
Also, allowing for the freedom of self-expression is vital, so your employees can feel they have a voice. Fostering a safe place for open, constructive dialogues is one of the key elements for a healthy workplace.
4. Be Professional AND Have Fun
While being professional, courteous, and diligent is a must for a successful practice, employees also want and need to have fun at work. There's already enough seriousness of business, so being spontaneous and having some fun is a welcome addition to long work hours.
Fun, or a sense of enjoyment, is a wonderful and vital element to a healthy and happy workplace. When your team is connected and respectful of each other, and feels like they can be themselves around each other, it makes it easier to be their natural selves and have fun together.
Bonding activities, such as a theme party or a sporting event, or even just a small afternoon break to share funny stories, will bring your employees closer and create a more relaxed and positive environment. Stress can happen even in the most positive workplaces, so there needs to be a balance with a good, healthy dose of fun.
At Compass Network Group Inc., each interaction with your dental practice is a chance for us to re-earn your trust and enhance your business.
Our goal and commitment is that you always feel our team is there for you, ready to provide our knowledge and experience to ensure your business gets the best solutions. We keep up with the dental industry IT standards and latest technology trends, so we can offer you the most efficient solution that will also save you time, effort and money.
Make sure your practice has the communication, networking and other IT solutions you and your patients deserve, contact Compass Network Group today.