Business Continuity
Preserve your data.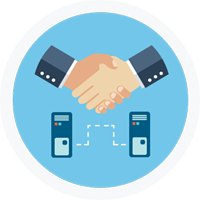 Without your data, you have nothing.  You rely on your data to serve your patients, manage your staff and oversee your practice.  If your data is ever lost, stolen or damaged, your practice may end up with considerable downtime.  However, when you backup your data with Compass, we'll always keep your data archived, restorable, and protected.
Fully Archived

Store your data consistently to ensure it's recoverable from any point.
Restorable

Recover any lost or damaged data and restore it within minutes.
Always Protected

Protect your information with the support of I.T. Experts motivated to secure your data.